"You will be prepared for all of your future conversations if you learn English with me"
Why is it worth taking lessons with me?
Vast experience – Teaching since 2006 + over 3,000 students

Certified teacher with a master's degree in English Language Teaching

Great motivator – able to inspire!

Study texts which are designed to increase your knowledge of typical phrases and sentence structures used by native speakers

Achieve fluency through personalising phrases and collocations – personalised sentences which are easy to recall in future conversations

Competitive prices
Hi, I'm Steve and Welcome to PELC
With seventeen years' experience as an English language instructor behind me, I offer tailor-made online courses to students.
PELC stands for "Personalised English Language Courses". This is because I will work with you – the student – to make newly learned words, phrases and collocations personal to you. You need to personalise lexis by creating true sentences about yourself, your life experiences and other familiar situations.
Since 2014, I have written nearly 100 texts which I share with students. Many of them are based on my own experiences living, travelling and working abroad. You don't have to worry – you will be able to relate to my experiences, and I will leave all the talking to you.
"I realised very early that teaching was my destination in life…"
In the summer of 2006, I set out on a remarkable professional journey. I've never looked back …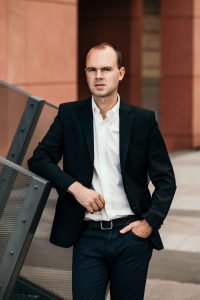 General English Fluency Development Course
Supplemented by engaging texts based on my own life experiences and observations of the world
Conversation-oriented
You'll become familiar with typical phrases and collocations used by native speakers
Opportunities to create personalised sentences which contain newly-learned words and collocations
Analysis and discussion of online news articles. Each article is supplemented by voice recordings and a summary of the most useful words and collocations
Intensive course designed to familiarise students with the writing and speaking components of the IELTS exam
By the end of the course, students are able to speak fluently and confidently under exam conditions
Supplemented by a coursebook and self-designed materials
More than 6,000 educational institutions, businesses and government departments around the world accept Cambridge English: Advanced (CAE) as proof of high-level achievement in learning English
Supplemented by a coursebook and self-designed materials
Cambridge Assessment English's highest level qualification – evidence that you are a highly competent speaker of English
Passing the exam shows that you can negotiate and persuade effectively at senior management level in international business settings
A C2 Proficiency qualification means you have the level of English required to study demanding subjects at the highest level, including postgraduate and PhD programmes
Check out this extended guide to acing the C2 Proficiency Speaking Test
Supplemented by coursebooks and self-designed materials
After just 20 short lessons lasting between 15 and 25 minutes, you will gain knowledge in the following areas:
Language learning strategies –

 such as how to use the PELC Word-Phrase Table to store vocabulary and collocations
Personalisation – the benefits of creating personalised sentences which contain new vocabulary and collocations
The English Tense System – 95% of interactions in English take place in only four tense aspects – present simple, past simple, present perfect and present perfect continuous. You will have the chance to tell some stories about yourself using only these tense aspects
Polish to English language transfer – Many Polish learners of English are not aware of the effect their mother tongue has on the quality of their English. Language transfer theory refers to the manner in which learners transfer Polish word-order patterns and grammar structures into English. For example, many Polish learners of English might translate "bardzo lubię wiosnę" as "I very like spring". The correct translation should be "I like spring very much". This course explores the issue of language transfer and the types of mistakes Polish learners of English typically make
Connected speech – avoiding the isolated pronunciation of words in conversation
The schwa sound – an important factor when it comes to achieving fluency in English
Business English course for business people or those wishing to enter the world of Business
Utilises articles about a range of business-related topics in order to stimulate interesting discussion
Materials have been meticulously designed in order to stimulate incidental grammar learning and the possibility of retrieving useful phrases and collocations in future conversations
Business English vocabulary
Supplemented by worksheets and a coursebook
During a work assignment in Łódź, Poland, I was fortunate to have had the opportunity to teach highly-motivated entrepreneurs, lawyers, doctors and warehouse logistics managers who are employed by international companies, such as L'Oréal.
Eight years' experience preparing children of all ages for their UK boarding school interviews
Focus on helping children to speak about their academic strengths, extra-curricular talents and leadership skills
Techniques for developing spoken fluency within a short space of time
Written feedback after every session
Two FREE consultation phone calls with parents
Broadening your knowledge of natural spoken English – Texts prepared and voice recorded by a native speaker
Why are PELC texts unique?
Themed texts which students can relate to

A teacher who is willing to share his experiences

A basis for great conversation, giving opinions and speaking under relaxed conditions

Key phrases and collocations often used by native speakers of English

Greater opportunities for incidental grammar acquisition

High-quality sound recordings provided for EVERY text
FREE with PELC!
FREE consultation meetings to discuss progress
FREE assistance with developing language learning strategies between classes
FREE texts and materials
FREE voice recordings to accompany PELC texts and other news articles
FREE webinars
FREE lessons for recommending a friend
FREE question and answer service on Skype
Building long-lasting relationships with students
"I had no idea that anyone could teach English in such an enjoyable way until I met Steve. Forget about boring textbooks and "fill the gap" exercises. Be prepared for a variety of materials which are suited to your interests. Expect many different texts, recordings and video materials …"
Krzesimir Modelski from Gdańsk, Poland
You can speak English powerfully and confidently!